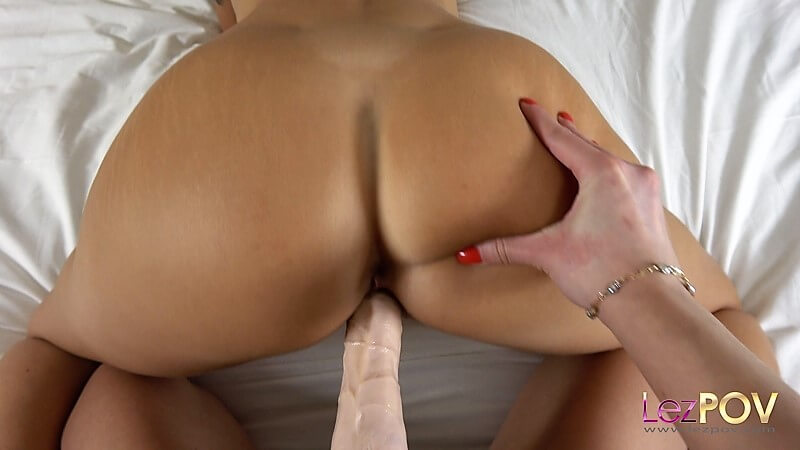 Victoria Velvet wakes up next to her young lover Amirah Adara and notices that Amirah is wearing the strap-on she bought for her. This a nice surprise for Victoria who is now wide awake and horny.
Victoria begins stroking her body up and down, feeling her skin get goosebumps while she looks at Amirah lying naked in front of her. She touches her breasts and pussy before leaning down to lick Amirah's bare breasts and nipples.
Amirah's nipples grow hard on Victoria's tongue and Victoria looks up at her seductively. She moves down her naked body to the massive rubber strap-on and begins to deepthroat it while Amirah strokes her hair.
Victoria loves sucking cock, but she loves having it inside her even more. She lubes it up to get it nice at smooth before getting on top and riding it. Amirah plays with Victoria's tits while she's fucking her and she loves it.
Victoria turns around to give Amirah a better view and once again slides onto her lover's cock. Amirah loves this position and can't get enough of Victoria's firm ass. But now, she wants to be in control and fuck her lover into climax.
Amirah takes control and kneels behind Victoria, easing the cock into her wet pussy and fucking her doggy style. Amirah loves the look in Victoria's eyes when she comes though, so to finish her off, she puts her on her back and fucks her one last time, until she cum all down her.
Victoria Velvet sucks off and rides her younger lover Amirah Adara's rubber cock before being dominated and forced to cum.
861 total views, 1 views today