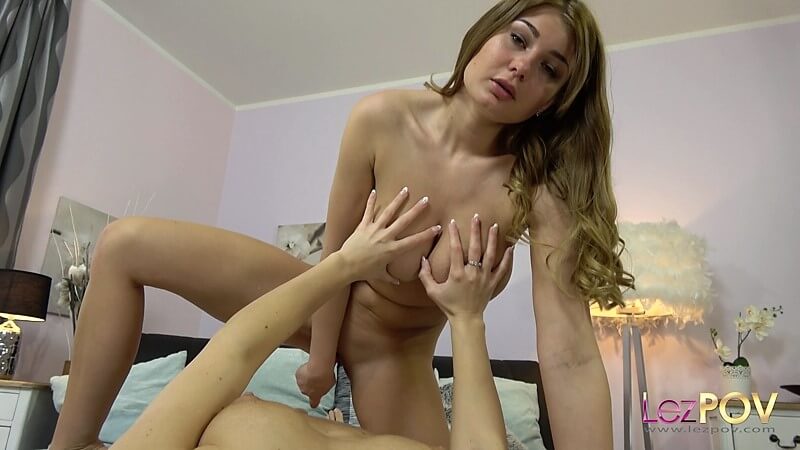 Lucy Li invites Jennifer Jane in to check out her new black evening dress. Jennifer loves it but thinks it would look better on her bedroom floor. Lucy teases her but it's not long before Jennifer gets her wish.
Jennifer watches as Lucy slowly removes her clothes, revealing her huge tits. Lucy looks seductively at her and invites her to join. Jennifer joins her on the bed and Lucy pounces. She loves Jennifer's tits and stares wide-eyed at Jennifer's while she sucks on them.
Lucy is hungry for more and once she's played with Jennifer's nipples until they're hard, she wants to make Jennifer even wetter.
Lucy loves the taste of Jennifer's pussy and loves eating her out. But she loves making her come too. And she knows just how to do it. She lubes up her pink vibrator so that she can have some fun.
Jennifer writhes and moans as Lucy pleasures her with her vibrator and hands. She gets closer and closer, rubbing Jennifer's wet pussy more and more. Finally, she screams with pleasure and Lucy Li smiles as she watches Jennifer cum.
Now it's Lucy's turn. Lucy spreads her ass and pussy in Jennifer's face and lets her use the dildo on her. But Lucy wants to look into Jennifer's eyes when she cums. She turns around, spreads her legs over Jennifer and fucks herself with the vibrator until she cums all over her. Watch Lucy Li make her best friend Jennifer Jones cum in this awesome 4K vid from Jennifer's POV.
1,209 total views, 2 views today