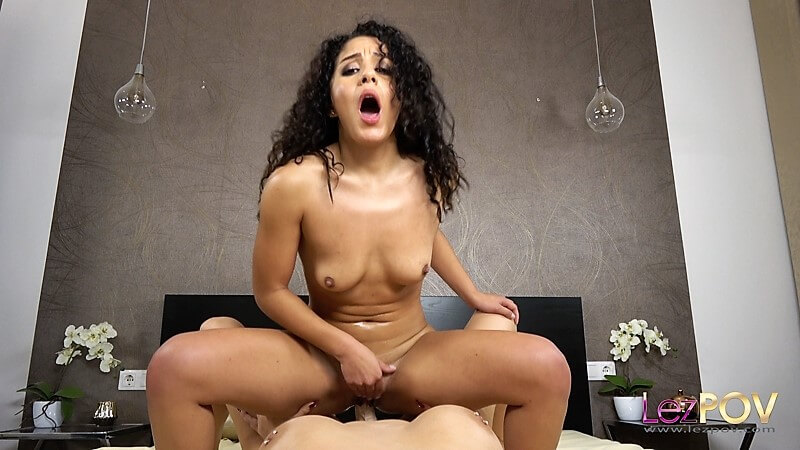 Liv Revamped is lying naked on her bed, teasing her lover Angel Wicky to come and join her for an afternoon treat. Liv sits up on the bed and then goes on all fours, presenting Angel with her prized pussy.
Angel looks down and Liv's gorgeous ass and at the strap-on that she is going to fuck her with. Angel moves in closer, placing the rubber cock between Liv's cheeks and teases her with it. Live rubs herself against it while Angel lubes it up.
Once the strap-on is ready, Angel strokes Liv's ass and pussy to make sure she's wet enough before sliding deep inside her. Liv moans with pleasure as she takes the whole thing in and Angel looks on as her pierced nipples bounce up and down as she's fucking her.
Angel doesn't want Liv to cum that easily though so she lies down so that Liv can suck her off.
Liv looks incredible as deepthroating her lover's rubber cock and it only makes her wetter. Soon she can't resist and so she takes over, by sitting on top of Angel and sliding the cock deep inside her.
She loves every inch of it and turns around so she can get even deeper. But Angel wants to be the one to finish things off. She lies Liv down on her back with her legs spread wide and then fucks her hard while playing with her clit until she has the orgasm of a lifetime, cumming all over Angel's rubber cock.
When Liv Revamped bends over in front of Angel Wicky, Angel can't resist fucking her luscious pussy until she cums.
1,009 total views, 1 views today