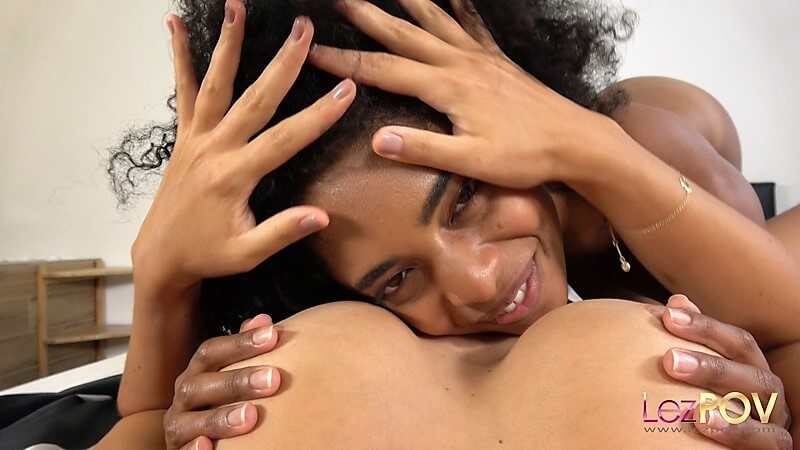 Luna Corazon gorgeous black body is lying on the bed in anticipation of Zafira. She sits up at Zafira's arrival and she has a naughty look in her eye. She wants Zafira, and she's going to get her!
Zafira lies down on the bed and takes Luna into her arms. Luna smiles and begins kissing Zafira's body all over. Luna praises Zafira's breasts with her tongue, sucking on her nipples and making them hard. She loves Zafira's body and can't get enough of it.
Luna sits up and looks deep into Zafira's eyes. She loves it when Zafira watches her. Luna rubs her hands all across her body, playing with her breasts and pussy, but Luna wants to feel Zafira touch her.
Luna bends over revealing her tight pussy and takes Zafira's hands so that she can play with her. Zafira feels Luna's firm ass and wet pussy, and Luna decides to take things to the next level.
Luna slowly kisses Zafira's thighs, working her way round to the sweet spot. Zafira moans with delight when Luna's tongue meets her pussy. Luna clearly loves it too and can't get enough but she doesn't want Zafira to cum that easily.
Luna moves off and sits up and looks over Zafira before fingering herself and Zafira at the same time. Both Luna and Zafira moan with pleasure. Luna slips down so that she can feel Zafira's pussy rub against hers. Finally, when Luna sees that Zafira can take no more, she uses her vibrator to get her lover to cum. Beautiful black Luna Corazon fucks Latino Zafira into submission in this awesome 4K POV video.
758 total views, 1 views today