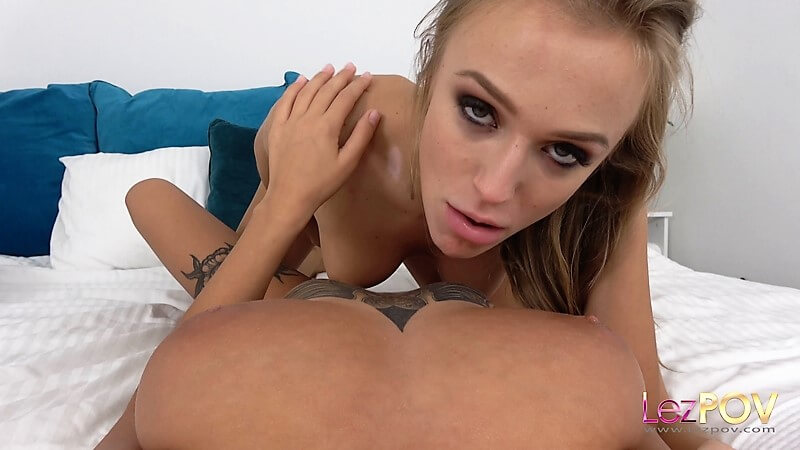 It's Liya Silver and Aislin's second year anniversary and Aislin has bought Liya some flowers. However, Liya has something extra special to give Aislin.
After Liya has put the flowers in water, she is ready to give Aislin her surprise. She's been waiting for this moment for ages and she can't wait any longer. Liya slides off her top to reveal her gorgeous tattooed body and new lingerie. But the lingerie isn't the surprise and that quickly comes off too.
Aislin knows instantly what her gift is, and she's already undressed to receive it. Liya has been looking forward to this so much and now she's going to pleasure her lover like never before.
Liya lovingly caresses her girlfriend's breasts a stomach, before Aislin takes her in her arms as Liya kisses her body. The two girls engage in loving foreplay, enjoying every moment of each other.
Liya begins to play with Aislin's wet pussy while playing with her own firm tits. Both girls get wetter and wetter and Liya needs to taste her lover's pussy. She slides down the bed and puts her head between Aislin's thighs and makes love to her with her tongue. Aislin moans with pleasure Liya looks up at her.
This being their anniversary treat, Liya wants to make sure both girls cum at the same time, so before Aislin cums, Liya stops, wraps Aislin with her legs and massages her wet pussy with her own until finally both girls cum at the same time. This is one-anniversary treat neither will forget in a hurry. Aislin pleasures Liya Silver's pussy with her tongue until she cums in her mouth, before finishing herself off.
986 total views, 1 views today