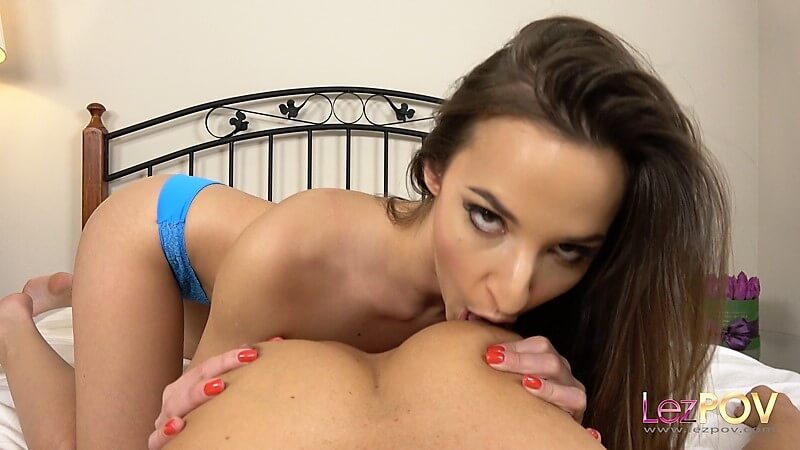 Amirah Adara's sugar mum Victoria Velvet has come over to give her a present, but what she doesn't know is that Amirah has a little surprise of her own planned.
After receiving a bunch of flowers from Victoria, Amirah tells her to get a little more comfortable and invites her to undress and lie down. What Victoria doesn't know is that she's about to get an awesome surprise.
Amirah gets on top of Victoria and begins seductively rubbing her breast before doing a striptease for her, slowly removing her blue polka-dot dress. Amirah clearly had this planned, as she's wearing sexy blue lingerie underneath, but Victoria is more interested in what's under it.
Amirah slowly removes her bra, showing off her petite breasts and smooth pink nipples. Then she does the same to Victoria before sensuously playing with her tits.
Moving down Victoria's body, Amirah removes Victoria's panties and runs her nails over her body, sending shivers through her. Then she lowers her head and begins gently licking her lover's pussy. She can't get enough and Victoria loves it. Amirah even spits onto her clit to make her even wetter.
Next, Amirah begins to finger her and massage her clit, before straddling Victoria so that she can see and feel how wet she is. Victoria rubs Amirah's pussy to help her get even wetter before the finale.
Amirah has one last surprise in store. She pulls out a massive pink strap-on. Now Victoria is really excited. Amirah spits on it and lubes it up before pushing it deep into Victoria and fucking her until she cums.
Amirah Adara repays her sugar mum Victoria Velvet by stripping, licking and finally fucking her with her massive strap-on.
811 total views, 2 views today