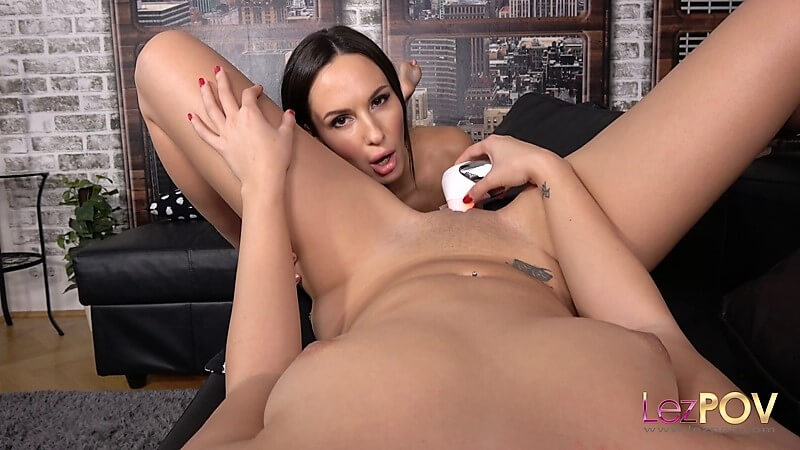 Lady Dee has invited her best friend Lilu Moon over for some red hot lesbian action in her New York apartment. Dee has told Lilu to make herself comfortable and she does, by stripping off and lying down on Dee's couch.
Dee wants to tease Lilu to make sure she's wet and wild. She straddles Lilu and kisses her all over, from her tits to her pussy. Dee loves Lilu's pussy and can't get enough. She fingers her best friend before eating her out. She loves it so much she nearly makes Lilu cum but manages to stop in time.
Dee wraps her legs around Lilu so that she can feel her best friend's wet pussy against hers. Both girls moan with pleasure as press against each other.
Dee has a little surprise in store for Lilu. She reaches back behind the sofa and pulls out her favourite vibrator. She pleasures herself in front of Lilu, given her an incredible view. Lilu looks on, stroking Dee's legs as she moans. Finally, Lilu moves her hand down and helps Dee to cum by fingering her while she uses her vibrator.
Once Dee has recovered from her awesome orgasm, it's Lilu's turn. Dee gives the vibrator to Lilu so that she can watch. Lilu begins pleasuring herself while Dee fingers her until she cums. After her incredible orgasm, Dee puts her tongue in Lilu's pussy so that she can taste her cum.
Lilu Moon shows off her skills by using her hand, pussy, tongue and toy to give her lover Lady Dee and incredible orgasm.
760 total views, 1 views today