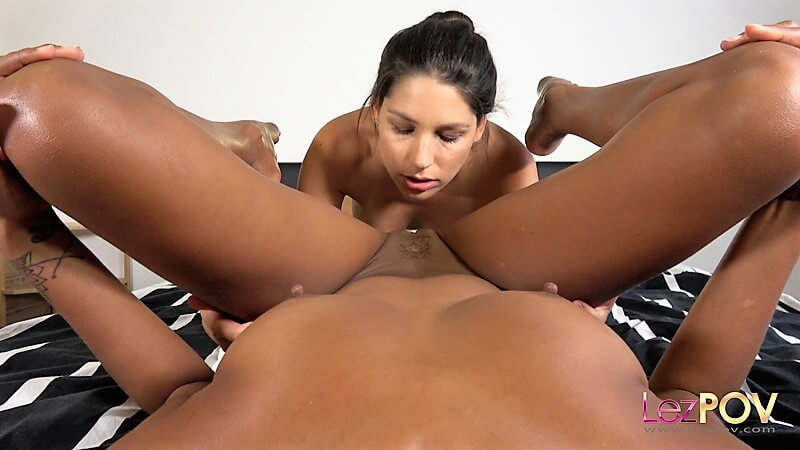 Zafira looks fiery in her shiny top and short skirt and Luna Corazon can't wait to get it off. But she's going to have to. Zafira wants to tease Luna first to make sure her pussy is nice and wet.
Zafira kneels on the bed as you look on through Luna's eyes. You feel how much she wants it, but Zafira's striptease is working its magic. She plays with her tits and ass, looking at Luna with her fiery eyes and rubbing her nipples until they're hard under her dress.
Zafira lies down and plays with her pussy through her lingerie, finally unstrapping it to reveal her wet pussy. This is what Luna has been waiting for. Zafira plays for herself a bit longer before slipping off her top and revealing her huge firm breasts. Now Zafira, completely naked, makes herself even wetter before letting Luna join her.
Luna Lies down on the bed so that you can see her shimmering black body under the gorgeous latino.
Zafira plays with Luna's tits, sucking on her nipples and making them hard, but she knows Luna wants more. Zafira moves back and starts massaging Luna's pussy, fingering her deeper and deeper. Luna loves every minute and Zafira wants more.
Zafira is hungry for pussy and teases Luna with her tongue while Luna holds her head in ecstasy. Then, Zafira pulls out one final surprise, her vibrator and finally makes Luna cum. Watch Zafira seduce Luna Corazon with striptease, pussy licking and vibrator from Luna Corazon's 4k POV.
664 total views, 1 views today