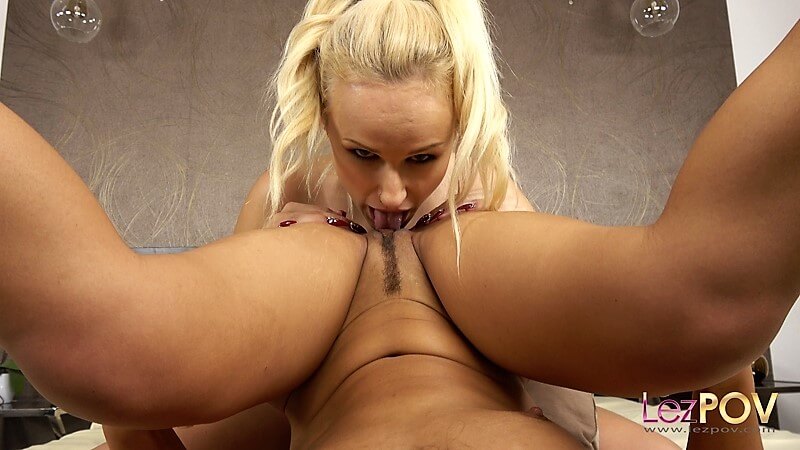 The beautiful blonde Angel Wicky has been waiting all day for her lover Liv Revamped to return home and when she does, she can't wait to get her into bed. After greeting her with a kiss, Angel tells Wicky to lie down on the bed so that they can have some fun.
Angel climbs on top of Liv and lovingly teases her, playing with her hard nipples and kissing them. She caresses her lover before sliding down to tease her pussy with her tongue.
Angel is getting hot, so she pulls down her top, revealing her massive breasts and pierced nipples which she rubs against Liv's. Liv plays with them before Angel slides down once more to take off her dress completely.
Once undressed, Angel turns around and present her naked ass and pussy so that Liv can play them. Angel loves it and slow grinds her pussy against Liv's bore turning round to straddle her. But Angel wants to taste her lover.
Angel spreads Liv's legs and pleasures her with her tongue. She spits into her pussy and massages it in to get her nice and wet. Angel loves how she tastes and can't get enough of Liv writhing and moaning in her mouth.
Angel has a surprise up her sleeve though. Before Liv cums, Angel stops and pulls out a strap-on. She lets Liv play with it before lubing it up and sliding it into Liv.
Angel's massive tits bounce up and down as she fucks her lover and both girls massage Liv's clit until finally, she spreads her legs wider and cums all down the strap-on.
Liv doesn't want to leave her lover restless and once Angel has finished, Liv lets her play with her tits whilst she masturbates over her.
Angel Wicky teases Liv Revamped with her massive pierced tits before fucking her with her strap-on.
901 total views, 1 views today