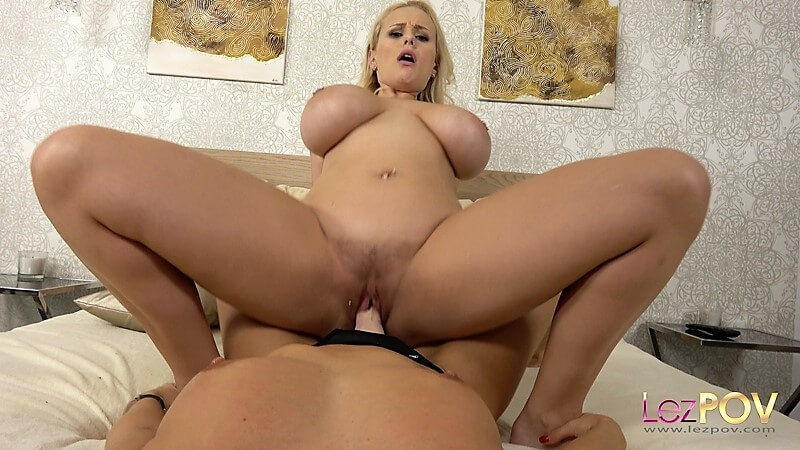 It's time for the beautiful busty blonde Angel Wicky to play with Vicky Love and she's got her right where she wants her.
Vicky Love is lying naked on the bed wearing only a strap-on, with Angel Love on top of her, teasing her. Angel begins by sucking on her lover's breasts and licking her nipples until they are hard.
Angel moves down Vicky's body and grabs the strap-on, moving it up so that she can taste Vicky's pussy. Angel puts the cock in her mouth and deepthroats it while she plays with Vicky's tits. Then, she stops and shoves the cock between her breasts for the ultimate tit wank.
Vicky loves watching Angel's huge breasts bouncing up and down her shaft, and moans with pleasure. Before she's done, Angel plays with Vicky's breast and then slides up and onto her, letting the cock slip slowly into her pussy.
Angel slides up and down the shaft, getting hornier and hornier and fingering herself into ecstasy. But Vicky wants to be dominant now. She turns Angel over so she can get in deeper and harder.
Vicky looks down at Angel's bare ass as she fucks her from behind. Vicky loves being dominant and she knows how to get a girl wet. Finally, she turns her over one last time so that she can finger fuck her and look into her eyes as she cums.
Vicky Love likes nothing more than fucking Angel Wicky deep and hard until she cums all over her rubber cock.
1,072 total views, 1 views today