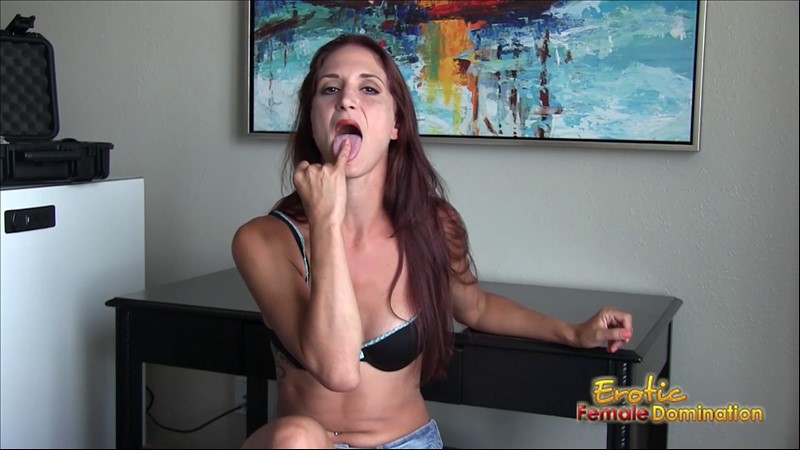 What are you looking at? Do you think somebody like me would be even interested in talking or looking at somebody like you? Come on, take your pants down! Let me see that tiny little penis that you fit between your legs. Can you even see it through that pubic hair of yours? Ah… I don't know what you're thinking… thinking that somebody like me would even consider looking at that.. I mean… Pull the pants down. Come on! Aaah, is it not hard? Should I try to make it hard for you? Ha? Maybe this will get that tiny little pecker of yours to stand up a little bit. Huh? What do you think? Uh, I see it, I see it creeping up out of your pubes. It's so little… That just made me laugh for the day. That tiny, pathetic, little thing that you call a penis. It's like… this big… what do you expect anybody to do with that? You can't even fit that between these tits of mine. You can't even put it right between my cleavage, you pathetic little fucking looser.
Look… to be like that… what is that? How am I supposed to titty fuck that? What do you do with that? Do you… do you even have like a good grip with those little fingers to grab and stroke it? Stroke it for me, I wanna see. I wanna laugh at you stroking that pathetic little cock of yours.
Look at that, it's like you're grabbing a string beam, it's so small. Does that really get you off? Does something that small and little get something off like that? Like…give me a break… How pathetic do you have to be to think you can get a girl with a dick that small? I mean…do you have like Napoleon syndrome when it comes to your dick? Let's try it… it doesn't even fulfill my tongue. What is a girl supposed to do with a dick that small? Tell me, I don't even know how to jerk it off or suck something like that, it's so pathetic. You can't even see it, and it's hard! It supposed to be the biggest when it's hard and you still can't even see it. It's like… maybe if I got you a little harder, maybe it will grow more? Hm, what do you think? So is this… turn you on a little more? Is this gonna help make it grow? I sure hope so because…I wouldn't even know what to do with something that little. Come on, get it a little harder for me! Let's watch that dick grow… Hmm, you wanna put it between these tits? Huh? You think we can get it big enough so I can at least titty fuck you? Because something that little is not gonna make it very far at all. So why don't you stroke that little dick of yours harder and faster because you got to give me something to work with here. I mean it's so pathetic and little it's… confusing, I don't even know what the fuck to do with it. Stroke that little cock of yours and pretend like you're a big man. Come on! Let's see you make it grow. Because there's really nothing to do with a penis like that. It's so minuscule, you can barely even see it. I'm gonna get… I have an idea, I'm gonna get a magnifying glass so I can even find it, how about that? Your pubic hair is longer than your dick. So… come on, stroke that dick and make it hard for me, because I need something to work with here. Well… come on! Stroke that cock! Come on! Maybe you can cum… oh yea, stroke that cock and cum. Oh, I wanna see that big fucking load come out of that tiny little dick. Oh, you're cumming. Oh my god, did you just cum? That's like the size of a fucking tear drop. You pathetic fucking loser. Your cum can't even fit in my belly button, you came so little, you fucking jerk off. Yeah, that's right! Yeah, I called you a jerk off, because that's the only thing you'll be doing for the rest of your fucking life, you pathetic looser with a small, tiny cock. I don't think a guy like you could make me cum, or even turn me on. I don't like small dicks, and you're beyond small. You're a pathetic tiny dick fucking loser. Maybe we'll have to find a little tiny doll for you to get off to, because that's the only thing that is ever going to allow you to fuck it. You pathetic little dick…
I'm gonna go find myself a real man with a large enough cock that I can at least feel between my legs, because that… that just doesn't cut it. So… I don't know, maybe you should go shopping at Toys R Us and find yourself some pathetic little toys to jerk off to, because that's the only thing in life that is ever going to satisfy you. I can't even be bothered… If it doesn't fit between these tits then you're just too fucking small for me, so… I don't know what to tell you. Maybe… it wouldn't even fit in a penis pump, so you're just fucked. You pathetic, tiny dick man.
Well… I'm gonna go find somebody who can satisfy me because you just don't cut it.
696 total views, 2 views today